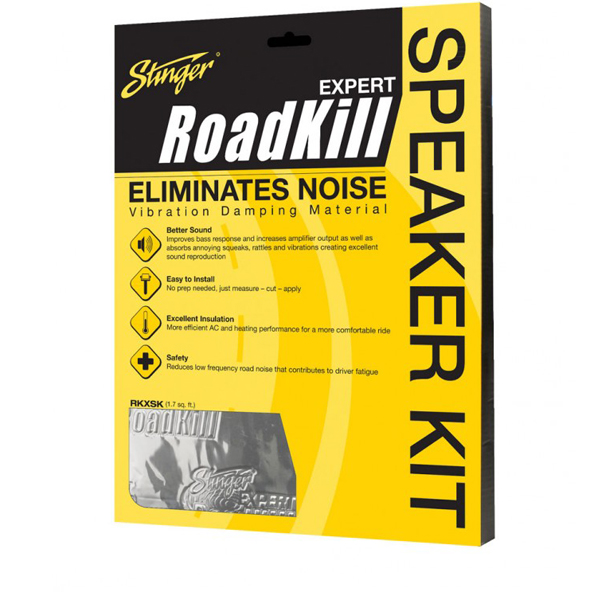 Stinger Roadkill Speaker Kit
1.7sq ft Speaker Sound Damping Pack
Stinger Roadkill line of sound damping material helps you enjoy your music by reducing the extra noise.Most vehicles come equipped with door speakers, but let's face it, a door panel is not the best environment for high-quality sound. The thin metal in the door vibrates as your music plays, and the louder your music is, the more rattle you'll hear. Suddenly, the sick system you just paid thousands of dollars for sounds like a vibrating tin can. (That can't possibly be what you were hoping to achieve.)This is where Stinger Roadkill Sound deadening products come into play. The thin metal can be treated with Stinger Roadkill sound damping material to add mass to the panel and reduce the vibration, creating a more stable platform for your speakers. Adding different types of damping material throughout your vehicle enables your car to sound as quiet and smooth at 60 mph as it does at 15 mph. Road noise tends to mask lower frequencies first, causing your system to sound overly bright when you turn it up while driving at highway speeds. Sound damping material lowers interior noise levels in your car, so you don't have to turn your music up as loud when you're driving. You'll hear more musical detail, and your amps won't have to work as hard.

Other features include 

More efficient A/C and heating performance for a more comfortable ride
Reduce low-frequency road noises that contribute to driver fatigue

Don't just take my word for it, car audio experts around the globe are raving about Stinger Roadkill products.