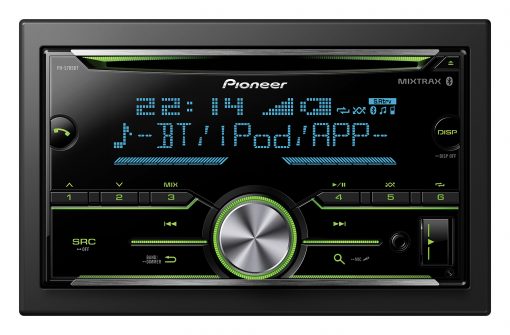 Pioneer FH-X705BT
CD/FM car stereo with Bluetooth®, Direct iPod Control and Android Media Compatible, USB and Aux-In
With smartphone pairing now a necessity in the car, Pioneer has beefed-up Bluetooth technology on the FH-S705BT, allowing you to connect two phones at the same time for hands-free calling or music streaming.
Ideal for those who travel with both a work + personal phone in the car, Pioneer's Dual Bluetooth includes an auto connection function, so both phones automatically pair with the FH-S705BT. Once connected, iPhone users can go that step further and use their voice to control their phone, courtesy of built-in Siri Eyes Free technology.
In addition to Dual Bluetooth connectivity, the FH-S705BT comes with AM/FM radio, CD player, a dedicated audio source for Spotify music, plus USB/Aux-In. There's also 3 x RCA Pre-Outs that allows you to connect extra audio products.
DUAL BLUETOOTH
Connect two Bluetooth phones simultaneously to the FH-S705BT. Now calls can be picked up by either of the paired phones, eliminating the need to pair and un-pair devices. Bluetooth Audio Streaming (A2DP, AVRCP 1.6) makes it possible to display information embedded in songs. Simple Paring (SSP,PIN code not needed).
WORKS WITH SPOTIFY
With Spotify being a dedicated audio source on the FH-S705BT, you now have the ability to control content from the Spotify app on an iPhone (via USB or Bluetooth) or an Android device (via Bluetooth).  You can play, pause and skip tracks, browse playlists, albums and radio stations on the go using the Pioneer controls.  If you are a Spotify premium user (requires a monthly paid subscription), you can enjoy ad-free, high quality music even when there is no internet connection.
SIRI® EYES FREE
To minimise distractions even more while driving iPhone users can use voice commands to ask Siri questions to access many iPhone functions such as music selection; making phone calls; and listening to text message, calendar information, and reminders. Users with an iPhone® 4s or newer can take advantage of Siri® Eyes Free functionality with a touch of a button. When activated, Siri voice prompts play through the vehicle's speakers and the user's commands and questions are received and transmitted to the receiver using the external microphone.
USB DIRECT CONTROL FOR IPOD®/IPHONE
The FH-S705BT is ready to roll with direct connectivity to your iPhone for music playback via an authentic Apple USB to lightning cable. Powerful tools such as Link Search and Alphabet Search help you find content faster. The system's wired USB connection provides direct digital signal transfer from the device for clean, clear sound, while keeping your iPhone charged.
*We recommend confirming your iPhone compatibility with our Support team or your local authorised retailer, prior to making a purchase.
ANDROID MUSIC SUPPORT
Android devices running operating system 4.0 or later can be connected so music stored on their phone can be played on the FH-S705BT, without the need for an app. The process is made possible using Media Transfer Protocol (MTP). MTP allows the receiver to recognize the Android smartphone as a music storage device. Users can now access music via USB stored on an Android device and operate basic operations like FF, REW, Play, Pause, Random Play, and Repeat. Metadata information such as track, artist, and album name can be displayed.
*We recommend confirming your iPhone or iPod compatibility with our Support team or your local authorised retailer, prior to making a purchase.